Conquer Addiction was created as a result of our family's searing journey trying to find our daughter the help she needed to recover from severe alcoholism.  As we've talked with other families during and after these scary years, we've learned that most of us were forced to rely on chance conversations and blind luck to find help for our sons and daughters.  With a disease in which second chances are never guaranteed, this is totally unacceptable!  
Families and individuals in crisis need to be able to easily find rehabs that can prove via independent outcomes research that the treatment they're providing actually helps patients recover.  When we first created this directory in 2015, we discovered that there were only five rehabs in the entire U.S. who were effectively following up with their patients after treatment and willing to share their results!  That shocking result launched Joanna on a multi-year quest to build a research company to help rehabs cost-effectively measure their post-treatment outcomes. 
Today, dozens of progressive rehabs are measuring and working to improve the effectiveness of their treatment.   With immense gratitude to the addiction treatment community that played such a critical role in helping Karina recover, Joanna and Karina converted Conquer Addiction, Inc. into a nonprofit and officially launched this website and directory in June 2020.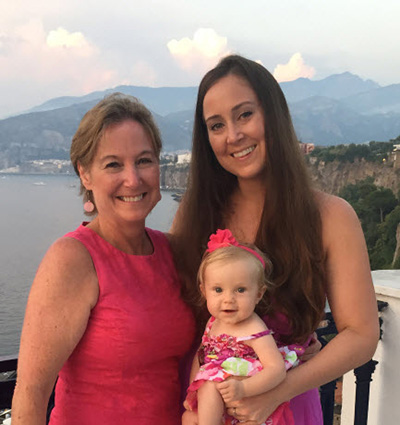 Joanna, Karina & Milana in Positano, Italy
Joanna Conti
A chemical engineer with extensive research and programming experience, Joanna has spent the last 20 years using her skills to tackle some of the biggest challenges facing our country and the world.  She founded an international non-profit that helped tens of thousands of the neediest orphans and street children in Africa and Asia, was the Democratic candidate for Colorado's 6th Congressional District in 2004, and ran for County Executive of Anne Arundel County, Maryland in 2010.  Along the way, she analyzed large data sets to identify how to save lives by speeding up ambulance response times as well as an innovative approach to tackling the achievement gap in local schools.
A mom of 4, the most difficult problem she ever faced was her daughter's descent into serious addiction.  You can read her story here.   
Karina Monesson
After years of drinking to lethal levels and multiple car accidents, court hearings, treatment centers and halfway houses later, Karina became sober in 2013 just one month shy of her 25th birthday. Her descent was fast and furious, but thanks to good treatment, great sponsorship, and a mother who wouldn't give up on her, she recovered. Addicts do recover—and we can thrive.
Today, Karina is a researcher and thought leader for a prominent HR technology company. She and her husband live in South Florida with their six- and one-year-old daughters.  Sobriety has given her the gifts of life, love, pride, joy, friendship, and family, and Karina is passionate about helping others along their path to recovery. You can read her good-bye letter to alcohol here.