Acqua Recovery
Acqua Recovery's award-winning 20-bed mental health and substance abuse facility is located on 12 acres just outside of Park City, Utah. Our grounds feature multiple ponds, streams, waterfalls, and an abundance of wildlife. A sanctuary in which healing can truly begin. With such a serene environment we find that a smaller, more intimate facility will facilitate a more individualized experience.
We have an above industry standards approach. Each client meets with a Master's Level Clinician twice a week. They meet weekly with our Medical Director, Case Manager, Experiential Coordinator, Recovery Coach and other resources based upon their individualized treatment plan.
•We take the Individualized approach very seriously with our core focus being on measurable outcomes.
•We focus on a multi-modality approach including CBT, DBT, EMDR, REBT, ACT, and more depending on individual needs.
We approach healing and recovery through a holistic lens. We feature a Pro-Recovery diet and dietary training designed to maintain great physical health. Each client participates in Experiential Activities increasing the quality of their life by learning leisure skills and participating in a wide range of leisure activities.
After a thorough assessment, we pair you with a Certified Recovery Coach for continued support the 6 months post-treatment.
Special Programs:
Young adults (18+)
LGBTQ
12 Step Focused
Non-12 Step Program
Trauma
Awards & Accreditations:

Success Tracking:
In independent research by Vista Research Group, after an average stay of 41 days, 40% of Acqua's patients were reachable and claimed to have been abstinent for at least the last 30 days at six months post-treatment: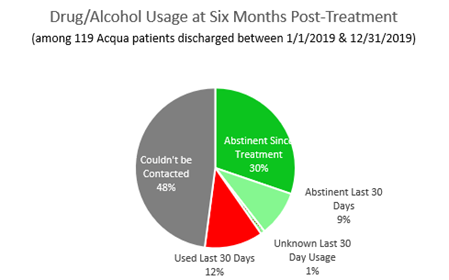 Of course, true recovery encompasses more than just stopping using harmful substances. By six months post-treatment, Acqua patients reported major improvements in other important indicators of recovery success: