Corner Canyon Recovery
Corner Canyon Recovery is innovative and provides our adult clients with the most effective treatment options available for their individual concerns. Our inpatient program strives to improve and change lives in ways that other treatment programs can't. In addition to our carefully designed treatment program, implemented by caring, intelligent, and well-trained personnel, Corner Canyon has added many current research-validated modalities to improve treatment outcomes. These include DNA testing, Neuro Enhancement Brain Technology, the Gut-Brain Diet, IV Therapies (NAD and Amino Acid therapies), Stellate Ganglion Block for clients with PTSD symptoms, and Biomarker testing for abnormal biochemistry leading to chronic pain.
Corner Canyon provides a unique healing experience. We combine a research-validated, innovative approach to assessment and treatment with our comprehensive, caring, individualized, creative, and comfortable residential program. Our goal is to help our clients achieve long term addiction and mental health recovery success using every effective method we can find and validate. Our approach is different from other treatment programs and we enjoy watching our clients evolve mentally, emotionally, and physically into healthy people who are well prepared to resume or create productive and happy personal and professional lives. To learn more and get started, contact us today!
Special Programs:
LGBTQ
Trauma
Process Addictions
Gambling Addictions
Internet/gaming addictions
Awards & Accreditations:

Success Tracking:
In independent research by Vista Research Group, after an average stay of 69 days, 38% of Corner Canyon's patients were reachable and claimed to have been abstinent for at least the last 30 days at one year post-treatment: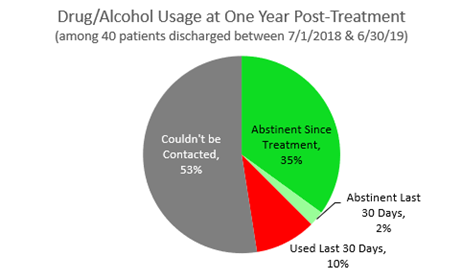 Of course, true recovery encompasses more than just stopping using harmful substances. By one year post-treatment, Corner Canyon patients reported major improvements in other important indicators of recovery success: