Reflections Recovery Center provides rehabilitation services for substance addiction, alcohol abuse, and mental health disorders. Reflections offers all levels of care including social detox, residential, day treatment, intensive outpatient, and family support services all located in the beautiful restorative Wasatch Mountains. We embrace the concept that these progressive chronic diseases are extremely complex with genetic, environmental, and experiential origins. More often than not, individuals struggling with addiction are also battling additional emotional or mental challenges. If left untreated lives are destroyed and often have a fatal conclusion. Reflections incorporates a 12-step spiritually based treatment model along with self-worth personal growth and development to address mind, body, and soul which contributes to long-term recovery in harmony with society.
Substance abuse disrupts every aspect of life for those affected and their loved ones. Our approach is uniquely suited to address all six planes simultaneously; emotional, mental, physical, spiritual, social, and environmental. Rather than merely placing bandages on symptoms, our mission is to identify and treat the root causes of addiction. Reflection Recovery Center's number one goal is to return hope, dignity, and value to the lives and loved ones of those who have been hijacked by the deception of this terrible disease.
Treatment Type:
Residential
Partial Hospitalization
Intensive Outpatient
Outpatient
Medications:
Buprenorphine
Sublocade
Suboxone/Subutex
Vivitrol/naltrexone
Special Programs:
Young adults (18+)
12 Step Focused
Trauma
Process Addictions
Professionals
In independent research by Vista Research Group, after an average treatment stay of 69 days, 34.5% of Reflection's patients were reachable and claimed to have been abstinent for at least the last 30 days at one year post-treatment: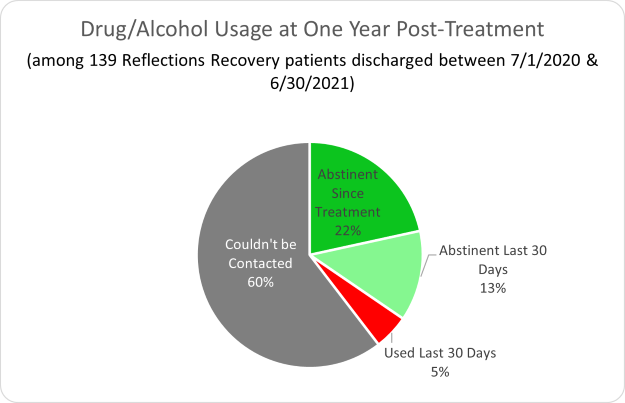 Of course, true recovery encompasses more than just stopping using harmful substances. By one year post-treatment, the Reflections patients who responded reported major improvements in other important indicators of recovery success: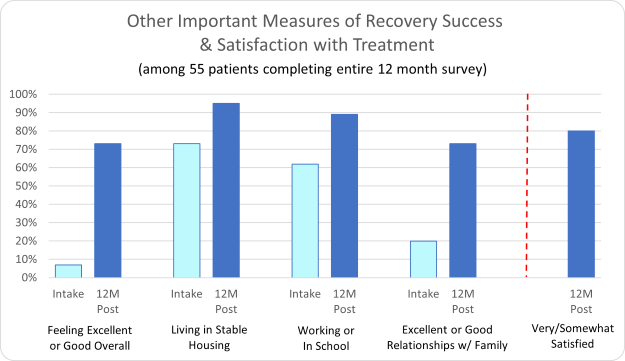 Insurance Options:
In Network:

Medicaid
TriCare
Select Health, Molina, PEHP, First Health, EMI

Often Successful Out-of-Network:

Aetna
Anthem BCBS
Beacon Health Options
Blue Cross Blue Shield
Cigna
Magellan Healthcare
MultiPlan
United Health Care/UBH/Optum
Value Options
DMBA

Will Submit To:

ComPsych
Humana
Please use this information only as a starting point. Most insurance companies offer multiple plans with differing benefits. Please confirm what your insurance will cover with both the treatment center and your insurance company early in your process of choosing a treatment center.