Excellence in Treatment Awards
2019 Winners
Conquer Addiction, Inc. presented 2019 "Excellence in Treatment" awards to four addiction treatment centers with very high post-treatment abstinence success rates from the main stage of the Moments of Change conference on October 1st.  Please join us in congratulating the following treatment centers with excellent outcomes: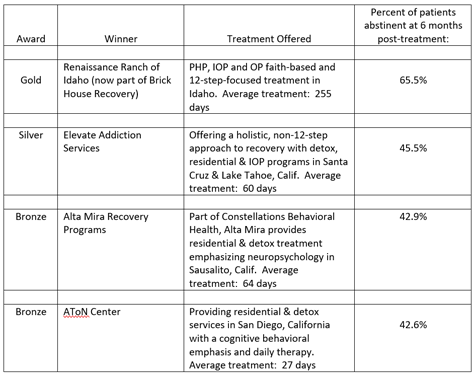 Sixteen treatment programs applied to the 2019 Excellence in Treatment awards.  All submissions were submitted to an independent panel of judges who determined whether they had followed appropriate research protocols and complied with the award rules.   
Click on the pictures below to watch the acceptance speeches of the winners:
Silver Award Winner:
Tim Sinnott, Clinical Director, Elevate Addiction Services
Bronze Award Winner:
Ian Wolds, Executive Director, Alta Mira Recovery Programs
Bronze Award Winner:
Pat Brady, Director of Operations, AToN Center
2020 Awards
Starting in 2020, "Excellence in Treatment" awards will recognize the most effective addiction treatment programs in three categories: abstinence-based, harm reduction and treatment of professionals.  Preliminary rules for the abstinence-based category may be downloaded here.  Three levels of awards will be given in each category:
Gold:  Top 5% of all applicants
Silver:  Top 6% to 15% of applicants
Bronze:  Top 16% to 33% of applicants
Winners of the gold, silver or bronze awards will be publicly announced; the identity of all other award applicants will remain confidential.  Applications must be received by Tuesday, September 15, 2020 at 5:00 p.m. PST.  Please note that you must be able to provide six-month post-treatment follow up data for a minimum of 25 patients who discharged during 2019 in order to be eligible to apply for the 2020 Excellence in Treatment awards!