Originally Posted:
Mar 30, 2023
Based on following up with over 13,000 patients from dozens of respected rehabs one year after their discharge from treatment, Vista Research Group has found that the average success rate for adult rehabs is 36%.  This means that, on average, 36% of former rehab patients are reachable and report that they've successfully abstained from all alcohol and illicit drug use for at least the last 30 days when contacted one year after treatment:   
One of the very disappointing aspects of this is that there has been no improvement in the average effectiveness of rehabs in the last 30 years.  The last federally-funded addiction treatment outcomes study, the DATOS study of 1993, had exactly the same findings -- 36% of patients were reachable and abstinent for at least the last 30 days one year after treatment: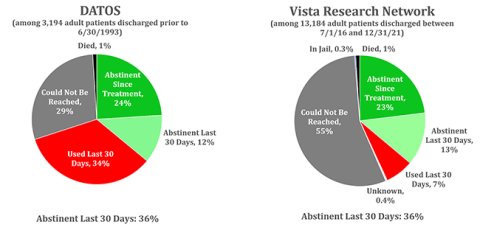 Fortunately, there is hopeful news too.  Vista's outcomes research has found that there's a tremendous variation in success rates between rehabs -- success rates among respected rehabs vary between 18% and 52%!
The fact that more than half of the patients at the best rehab are abstinent one year later compared to less than one out of five patients at the worst shows how critically important it is to choose your rehab carefully.  Use Conquer Addiction's free rehab search tool to find the best rehabs near you according to verified success rates.
Joanna
P.S. A lot of rehabs will tell you that 75% or more of their patients are in recovery six months or a year later. As sorry as I am to say this, it's simply not true. Here's how they're miscalculating their success rate.